Waste and Recycling Workers Week – June 19-23, 2023
During this special week of celebration for Waste and Recycling Workers Week, we join together to thank the women and men who work daily to keep our neighborhoods and streets safe and clean!
---
Friday, June 23, 2023
Thank you for celebrating with us this week. In addition to the five individuals highlighted below, we would be remiss not to recognize the following waste and recycling workers. Thank you all for your hard work and commitment to the solid waste industry.
Honorable Mentions:
Carl Wells, Jr.
Trash Truck Driver II
Miami-Dade County Department of Solid Waste Management
Cyrus Patrick
Waste Equipment Operator
Miami-Dade County Department of Solid Waste Management
Jon Ware
Solid Waste Supervisor
City of Lakeland
Lanoit Alexandre
Waste Enforcement Officer 1
Miami-Dade County Department of Solid Waste Management
Oblavie Ngalangala
Trash Truck Driver 1
Miami- Dade County Department of Solid Waste Management
Paula Arwood
Controller
United States Disposal Service
Yaitereny Palenzuela
Waste Operations Clerk
Miami-Dade County Department of Solid Waste Management
---
Friday, June 23, 2023
Congratulations Steve Gaulden!
Waste Equipment Operator, Miami-Dade County Department of Solid Waste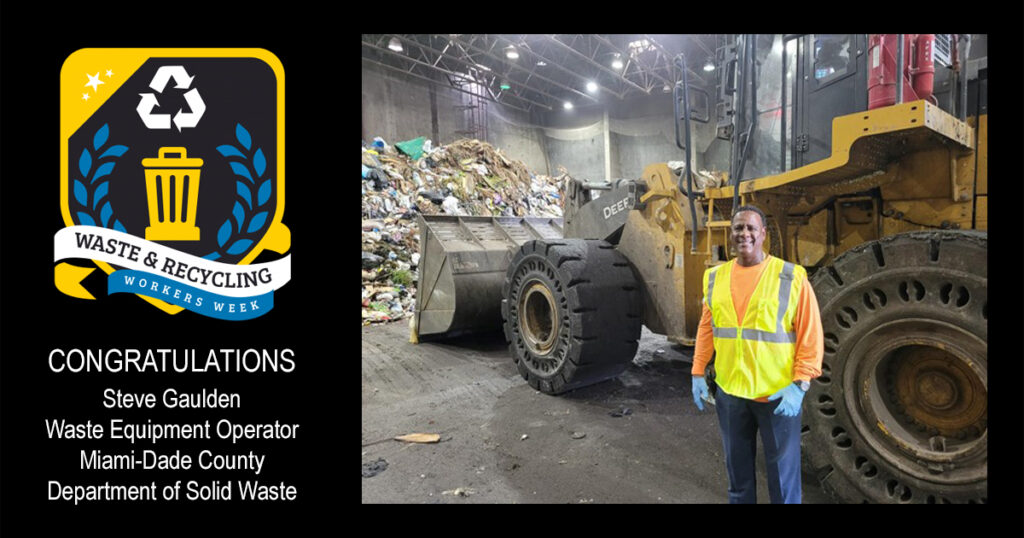 "Mr. Gaulden has been with Miami-Dade County for 36 years. He is a Waste Equipment Operator at Central Transfer Station. He's a very dependable and loyal employee to Miami-Dade County. He works in a very safe manner and makes sure the task in hand is done correctly."
Nominated by Kimberly Vazquez
---
Thursday, June 22, 2023
Congratulations Alexander Torres!
Waste Attendant 1, Miami-Dade County Department of Solid Waste Management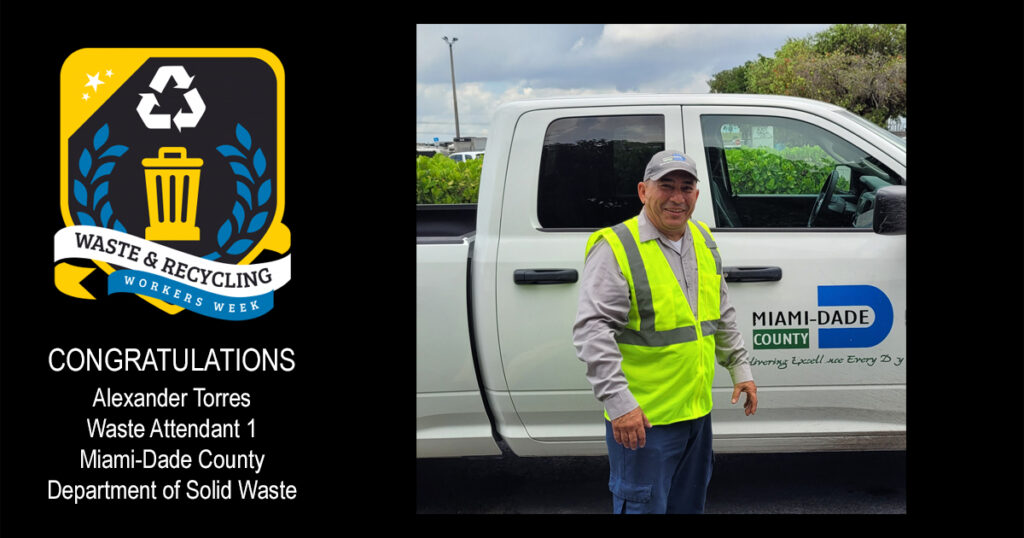 "It is my pleasure to present Mr. Torres, an exceptional employee from Cuba who came to this country to create a better life for his family. Despite a language barrier, he worked tirelessly as a temporary employee in our department, quickly comprehending his duties and effectively communicating with his superiors. In recognition of his exceptional work ethic and proven worth, he was appointed as Waste Attendant 1 in February 2018. His unwavering dedication, ambition, and commitment to always give his all have earned him the respect and admiration of his colleagues and management. Mr. Torres is the embodiment of the American Dream and a true inspiration to us all. It is with great honor that I highly recommend Mr. Torres for this esteemed award."
Nominated by Gabriela Fonseca
---
Wednesday, June 21, 2023
Congratulations Sahara Morales-Lee
Scale Supervisor, Lee County Solid Waste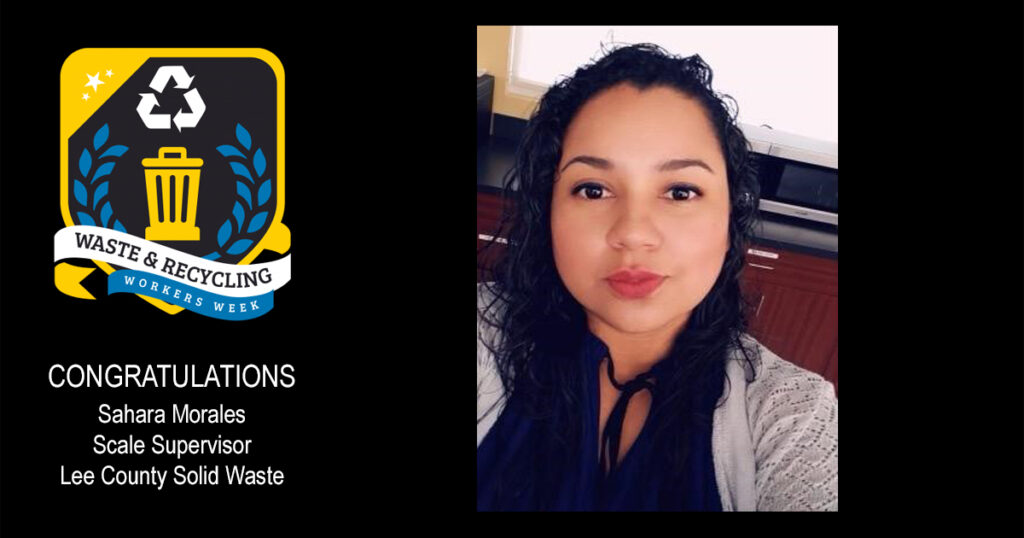 "The scales at Lee County Solid Waste in Fort Myers, Florida, are normally busy with approximately 1,000 vehicles a day to the Waste-To-Energy (WTE) Facility. The landfill is typically slow, with only the internal vehicles of Lee County Solid Waste bringing ash from the WTE.
On September 28, 2022, Hurricane Ian hit Lee County with a vengeance. The amount of storm debris was enormous, and our traffic count would increase immensely with citizens and business trying to dispose of their storm debris. Our WTE was now seeing vehicle counts top 1200 and approaching 1300 vehicles a day. Due to the increase in volume, wait times on campus were exceedingly high, in some cases over an hour. The wait times were impeding on the number of loads our franchise haulers could bring in and the amount of loads our internal drivers could bring out. They were waiting on campus too long in traffic lines. Something had to be done.
Sahara Morales is the Scale House Supervisor for Lee County Solid Waste. She oversees three scale houses at our WTE campus, one at the Lee/Hendry Landfill, one at our transfer station in Clewiston, Florida and our other transfer station in Labelle, Florida. She was acutely aware that we needed a new plan to combat the wait times our customers, both internal and external, were experiencing.
The first change to take place was removing all the asphalt shingle traffic from the WTE campus. The shingles were coming in at an alarming rate due to the roof damage from the hurricane. Over 3,000 tons a week, which came in 200-250 vehicles a day. The decision was made that they must all now go to the landfill. However, the landfill has only one scale for both inbound and outbound traffic. Sending all the shingle customers there, in addition to our own internal traffic, could be problematic for the one scale attendant. And it was. With now over 300 vehicles a day across one scale, the wait times at the landfill were over an hour. Moving traffic there created additional problems.
Sahara was tasked with going to the landfill to assess the situation and propose solutions to alleviate the traffic issues. The first solution she proposed were gate arms. Gate arms were installed both on the inbound and outbound roads that approached the one scale. This was done to keep both inbound and outbound traffic from trying to get on the scale at the same time. Now, the scale attendant could control the lanes allowing her to control the flow better.
Although this did provide some relief, it was not enough. Further measures needed to be taken to reduce traffic. Sahara came back with the suggestion of having our internal vehicles skip the inbound scales at the landfill. They would weigh out at our WTE facility, and a ticket would be generated for their weight. At the end of the day a report would be run to show all those outbound trips for our internal vehicles going to the landfill. That report was sent to the landfill at the end of the day and inbound tickets for those vehicles were created using the outbound ticket information. Now our internal vehicles were out of the waiting line and able to make more trips per day as a result.
Still, more needed to be done to reduce the traffic and wait times at the landfill. Sahara, thinking out of the box, as she does so well, suggested tare weighing all the trucks and trailers that were bringing asphalt shingles to the landfill. There are over 150 of those specific vehicles daily. The customers were very receptive to the idea and so the idea was put into motion. Sahara ordered weather resistant stickers, a set with one series of numbers for the trucks and a set with a different numbering sequence for their trailers. Each would be weighed individually so the customer could bring any combination of truck and trailer. They would pay on the inbound, where their empty weight is now stored, and skip the outbound scale. Now we would have even less traffic clogging up the outbound lane, they now leave through a bypass lane and skip the outbound lane at the scales altogether. Sahara also had all the external trucks bringing sludge to the landfill tare weighted as well keeping them out of the outbound lanes also. The program received such positive feedback from customers, we expanded the program to our WTE facility and are realizing decreased traffic and wait times there now as well.
I would like for Sahara to be recognized for her efforts. Hurricane Ian presented our facilities with some extremely difficult challenges. Sahara did not waiver and came up with ideas that were feasible, quick to implement and effective. All of this while leading her staff of nine, which had to adapt to each one of these changes. Working 12-hour days, dealing with hurricane fatigue, not only her fatigue, but that of her staff and 1000+ customers daily, all with a smile and positive attitude. She did an amazing job over the last eight months since the hurricane and has implemented changes that will benefit our facilities for years to come."
Nominated by Eleanor Pasquali
---
Tuesday, June 20, 2023
Congratulations Michael Minondo!
Transfer Station Operator, Seminole Tribe of Florida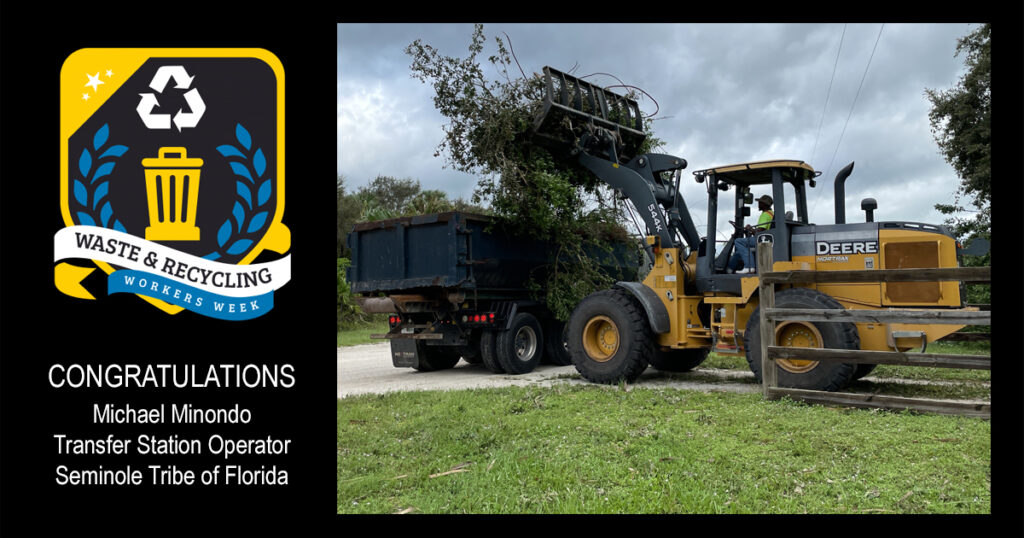 "The Seminole Tribes Solid Waste Department contains a team of well-rounded individuals and Michael has proven himself one of its top performers due to his drive and intelligence. Michael oversees the operation of his transfer station which has designated recycling, MSW, C&D, vegetative debris, and a satellite accumulation area. The Seminole Tribe operates its own solid waste fleet, so in addition to Michael's transfer station duties, he also assists with conducting the curbside recycling and residential MSW collection routes. Lastly, Michael is a veteran of six storm seasons with the Seminole Tribe, which fills a vital role in storm clean-up efforts. These efforts have assisted in turning Michael into a skilled wheel loader operator. Michael regularly attends industry-based webinars, as well as in-person and team led trainings from organizations such as SWANA, TREEO, and ITEP."
Nominated by Joshua Garcia
---
Monday, June 19, 2023
Congratulations Hunter Raymond Fair!
Landfill Service Technician II, Santa Rosa County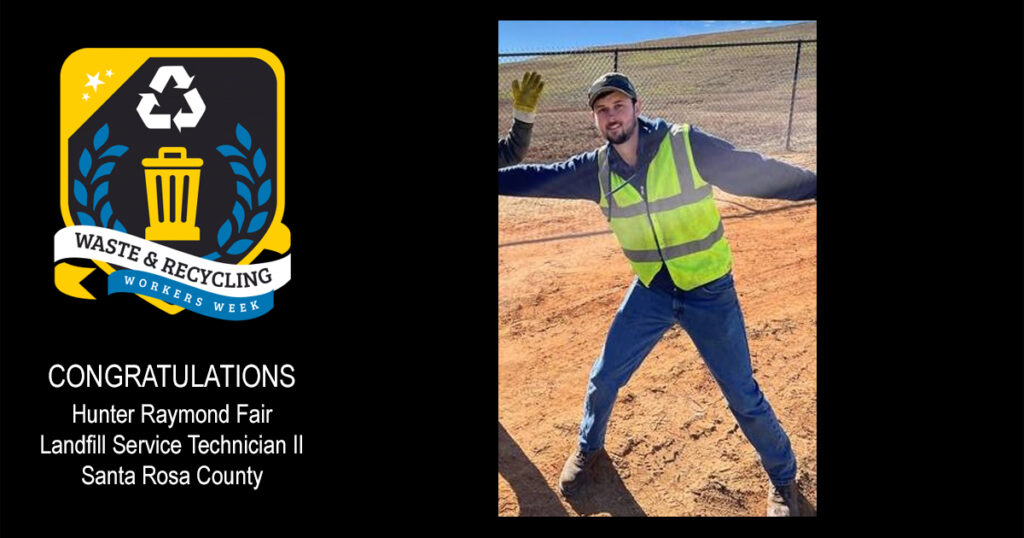 "Hunter Raymond Fair has been employed with Santa Rosa County for 3.5-years and, in that time, he has grown to become one of our most experienced scalehouse attendants. The scalehouse attendants are the daily interaction between the County and the public. Scalehouse attendants provide information on recycling, hazardous materials, and disposal while weighing vehicles (often loud commercial trucks) through a tiny window; they handle cash, credit, and account transactions often totaling hundreds of dollars per load. Hunter performs this dance in a way that gets the point across with a little humor and the utmost respect while balancing his drawer to the penny. He inspects the incoming waste loads through a camera and a McDonald's drive-thru sized window. He does all this much like the post office in rain, heat, and the cold except he also must deal with flies, dust, and the stench from incoming vehicles. Hunter uses his humor and positive attitude to keep his co-workers and the public smiling even if they are at "the dump." By the way, Hunter with his awesome self does this 600 times per day 4-days per week and inputs the important information that is being relayed between him and the customer into the computer in less than a minute per customer! Hunter also goes above and beyond in his customer service and stamps every customer's ticket "Have a Blessed Day!" with a special stamp which he purchased because he loves making people happy while working at his job at the scalehouse.
When he is not busy in the scalehouse, Hunter also assists around the landfill in many ways including: filling in at the Household Hazardous Waste Facility, washing and cleaning vehicles, cutting grass or weed eating, and picking up nails within the facility with a rolling magnet to save everyone's tires. Hunter performs any task he is given diligently and professionally. Hunter is an extremely hard-working individual with a great attitude who personifies Santa Rosa County's mission statement to serve the community while being committed to excellence."
Nominated by Kaz Szymoniak
---